GP Dati for Paradise Bay Resort
PRESS RELEASE
Paradise Bay Resort Hotel have upgraded their property management system to meet today's customer demands as well the efficient operations of the Hotel utilising the latest software available in the hospitality sector.
Paradise Bay Hotel was acquired by Mr. Moses Fenech in 1970 and was then extensively refurbished. The Resort has been operating as a 4-star tourist establishment and has recently been further upgraded through various works carried out to the guestrooms and public areas. Among the latest renovations the Resort has also invested in a new Property Management System.
GP Dati Hotel Service Spa of Venice, Italy were entrusted with the supply, installation, setting up and commissioning of hardware and software for the new system which included the SCRIGNO Hotel++ basic PMS module and additional modules to cater the Food & Beverage as well as stores and warehousing facilities. GP Dati Hotel services Spa were the preferred bidders for their outstanding track record on installations and support on many an installation in Italy as well as in other European countries including Malta.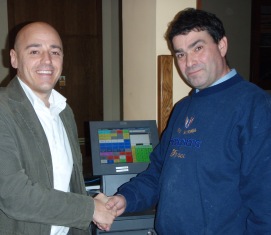 Mr. Stefan Fenech and Mr. Stanley Zammit, Directors of Paradise Bay Resort Hotel have commended GP Dati for the services rendered and look forward to the efficient operation of the various sectors within the hotel for the benefit of residents and the Resort itself.
GP Dati Hotel Service Spa are represented in Malta by Panta Marketing & Services Limited of Panta House, Valley Road, Msida.
Mr. Filippo Barbetta, (left), Alliance & Development Manager at GP Dati Hotel Service Spa congratulating Mr. Stanley Zammit, Director, Paradise Bay Resort Hotel on commissioning of the new Hotel - Property Management System.
GP Pellegrini was founded in 1924 and was then already active in the Information and Communication Technology sector. In 1979 the company developed the first Hotel software and in 1981 GP Dati Hotel Service Spa, a subsidiary of GP Pellegrini Group, was created. The company has been totally committed to further develop and enhance their range of products for the Hotel market. GP Dati is today a leader in ICT for tourism in the Hotel sector and deals in design, development, installation, consulting, training, after-sales support as well as a number of hosting services including Scrigno, Rate Manager, On-Line Concierge and Competitors' View. The company is ISO 9001:2000 certified.
---