Infinity Scrigno PMS: the best performing Hotel Management System
Infinity Scrigno PMS is the web-based cloud suite designed to provide a single hotel management system for managing strategic areas of the hotel. Its value consists of the use of a centralized Oracle database, to which all the specific application modules of each department are connected. Furthermore the PCI-DSS certification and GDPR compliant procedures guarantee complete information and data security for both the Hotel and Customers.
"INFINITY SCRIGNO PMS: finally the PMS that facilitates management, analysis, revenue and online sales!"

Steve — Hotel General Manager
---
The PMS you are looking for, studied on your needs

Centralized key functions
business intelligence, reports, accounting and invoicing.

You can work off-line
in case of disconnection from the datacenter thanks to the check-in/check-out on premise.

Integration with Zucchetti software
CRS, Revenue Management Systems, POS e F&B, Wellness, Marketing Automation, ERP.

Integration with international software
Ideas, Duetto, Synxis, TravelClick, just to name a few.

Customizable and scalable
for every hotel the right solution at the right price.

It works in hosting mode
on the most secure PCI-DSS compliant catacenter in Europe.
---
You will achieve your business goals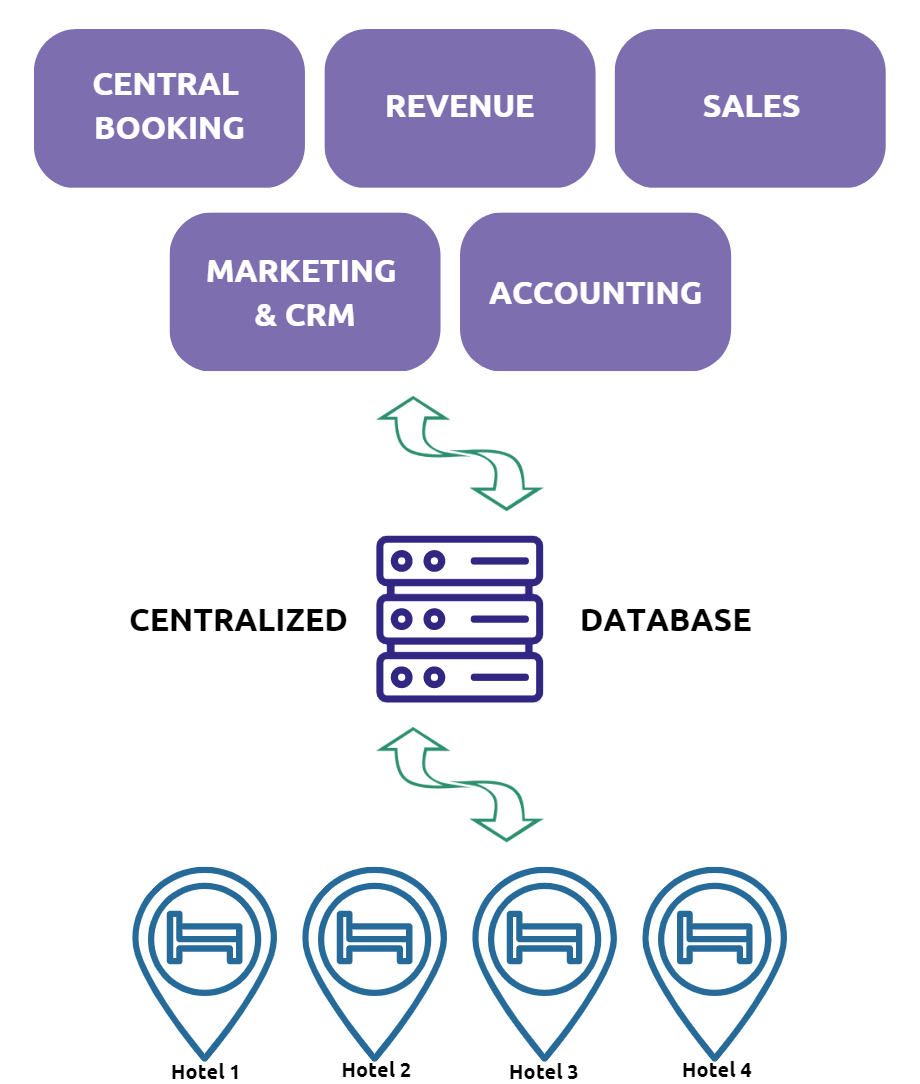 Infinity Scrigno PMS was designed to allow hotel companies to implement customer relationship marketing strategies, where customer information is the foundation on which the entire hotel chain information system is built.
The suite allows for cohesively sharing information across the Marketing, Sales, Administration and Finance and Production departments: all the management solutions we have designed for the various departments of the hotel industry are all based on a single database (the Customer database).
Infinity Scrigno PMS is:
MODULAR: scalable and flexible, it can be tailored to the needs of all hotel sizes.
CLOUD: it is safe and expandable and can be used from any location thanks to its cloud technology and low operating costs.
OPEN: it is created with the most advanced IT tools: Java, Oracle relational DB, application server, as well as Linux and Windows operating systems.
MULTI-CHANNEL: it is integrated with electronic booking channels via international standards-based protocols: Open Travel Alliance (OTA) for multichannel operation, XML for data integration.
Why choose Infinity Scrigno PMS
Scrigno is a technological solution that allows for implementing policies to continuously improve business efficiency, with the aim of:
increasing the occupancy rate of structures
maximising sales thanks to a multi-channel approach
optimising pricing policies with the aid of Revenue Management techniques
improving management of primary activities and resources
improving customer loyalty and profitability
Infinity Scrigno suite includes many integrated tools, such as:
customer database
central reservation system with GDS and Web portals
revenue management
CRM and marketing automation
sales force automation
operational management systems: hotel management software (PMS), accounting and warehouse functions management software
Food & Beverage and Points of Sale (POS)
service card and electronic wallet based on RFID technology
management control - Uniform System of Account for Hotels

ALL INFINITY SCRIGNO FUNCTIONS
Infinity Scrigno PMS is made up of various integrated modules that allow you to manage each operational department, that could be activated according to your needs:
---
Need to know more?
Our International Sales Manager is at your disposal to analyze your needs and propose the most suitable solution.
Back to Top
---