Infinity Scrigno PMS for resort & holiday villages
---
Infinity Scrigno PMS is the ideal management solution for high-end villages and resorts: the specific functions and Apps allow you to optimize operations, thanks to high speed performances and accuracy in transactions. Electronic wallet, App for shops, vehicle registration at entrance, beach tableau, allotment management: these are just some of the Scrigno functions that meet the needs of holiday villages and resorts, that must combine high standards of service with the management of important flows of arrivals and daily presences, different types of accommodation, numerous outlets located in large areas and various types of services (shops, beaches, restaurants, bars, conferences centers, SPA).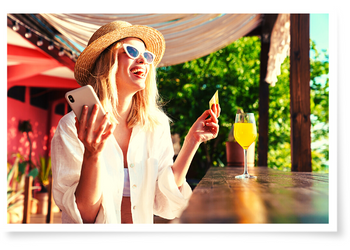 F&B AND ELECTRONIC WALLET
STRENGTH: no more cash in the resort
The electronic wallet allows you to manage payments in the village with RFid technology both in top-up mode and with room charge. The system is integrated with Scrigno PMS and with touch screen devices of the F&B system Easymeal. This solution allows guests to buy goods and use services in all points of sale without using cash. The same RFid card used for access the rooms can also be used for payments, and can be recharged at the reception or at special automatic loading kiosks.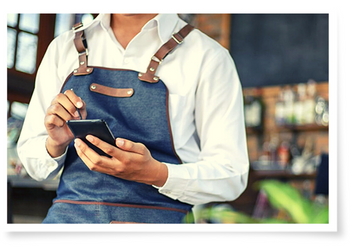 A WORLD OF APP
STRENGTH: smart and fast operations on the move
SelfSign App, to comply with the GDPR rules and collect privacy consent; Meal-counter Android App, to monitor guests' access to restaurants with buffet service and check the meals consumed reading the RFid card; Android App Shop, designed to manage third parties shops, that allows guests to use the electronic wallet for all payments; Housekeeping & Maintenance App, to define the time and staff needed to clean rooms and maintenance interventions, and to manage consumption from the minibar as well as lost & found reports (with the possibility of attaching images of objects forgotten in the room).
---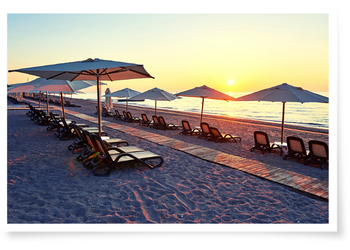 PRE CHECK-IN ONLINE, BEACH TABLEAU, WEB CHECK-OUT, ALLOTMENT MANAGEMENT
STRENGTH: easily manage the arrivals of a large number of customers
With Infinity Scrigno PMS you can offer to your customers the online pre-check-in, so they can do the check-in and sign privacy consents before the arrival avoiding long queues at the front-desk. Infinity Scrigno PMS also have a useful beach module in order to manage reservations of beach umbrellas, sunbeds, dressing rooms, cabins and all the services bookable on a daily basis. The integration with Nexi Payment Service allows you to acquire and verify credit cards as a guarantee (also for bookings from OTAs) and collect deposits and penalties for no-show, and customers can pay the full amount of the stay within the web check-out form.
Some of the Resorts and Holiday Village that have chosen Infinity Scrigno PMS:

ALL INFINITY SCRIGNO FUNCTIONS
Infinity Scrigno PMS is made up of various integrated modules that allow you to manage each operational department, that could be activated according to your needs:
---
Would you like to know more?
Our Sales Manager is at your disposal to analyze your needs and propose the most suitable solution.
Back to Top
---